Do you love (or need) your caffeine fix in the morning? If your go-to is Starbucks, here's our list of the most caffeinated Starbucks drinks out there.
We love our caffeinated drinks: it's a natural stimulant that perks us up and makes us feel more alert and energetic.
Starbucks is known worldwide for its coffee drinks, and most people have had at least one Starbucks drink in their lifetime (some of us have had way too many to count!).
Whether your go-to is a cold drink like an iced caramel macchiato or an iced green tea lemonade, or you prefer the hot stuff, this article will give you all the information you need about the 15 most caffeinated Starbucks drinks out there.
Knowing which drinks contain the most caffeine means you'll know what to avoid before bedtime!
Caffeinated Drinks at Starbucks
There are dozens of caffeinated drinks at Starbucks and many additional personalizations and combinations you can make.
This article will focus on their standard beverages without the added extras. All of the drinks we mention here will be the Grande size, which is a 16 oz. drink.
The caffeine content will be different for other sizes.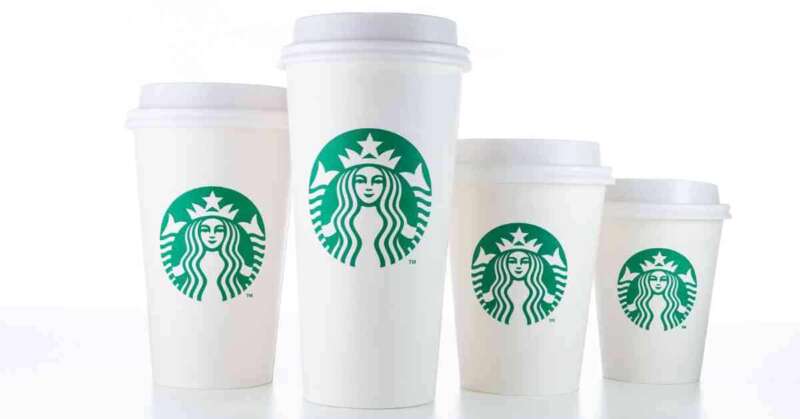 For reference, here are the different sizes of drinks on offer at Starbucks:
Demi – 3 oz.
Short – 8 oz.
Tall – 12 oz.
Grande – 16 oz.
Venti – 20 oz.
Trenta – 30 oz.
Starbucks Drinks that Contain the Most Caffeine
Before we explore each drink in detail, here is our list of the most caffeinated Starbucks drinks from most to least:
Clover brewed coffee – dark roast/Reserve roast – 380 mg
Clover brewed coffee – medium roast – 375 mg caffeine
Blonde Roast brewed coffee – 360 mg caffeine
Clover brewed coffee – blonde roast – 340 mg of caffeine
Pike Place roast – 310 mg of caffeine
Nitro Cold Brew – 280 mg
Brewed Coffee – Featured dark roast – 260 mg of caffeine
Iced shaken espresso – 255 mg
Blonde Caffè Americano – 255 mg caffeine
Caffè Americano – 225 mg
Cold brew -205 mg
Flat white – 195 mg
Caffè Mocha – 175 mg of caffeine
Blonde latte – 170 mg
Espresso (double shot) – 150 mg
Let's look at each one in detail.
1. Clover Brewed Coffee Dark Roast or Reserve Roast – 380 mg.
If you're looking for the strongest coffee, choose the dark roast or reserve roast Clover brewed coffee.
In a Grande, you'll get a whopping 380 mg of caffeine, equivalent to more than four espresso shots!
Different roasts are available, so choose the Italian Roast, French Roast, or Sumatra roast to get the most considerable caffeine hit. Opt for a Venti, and you'll get 470 mg of caffeine!
Starbucks' Clover Brewed coffees use a vacuum press to give your coffee more dimension, layers, and caffeine.
Unfortunately, clover coffee drinks are only available in some stores, so you'll have to find your nearest one.
2. Clover Brewed Coffee – Medium Roast – 375 Mg.
If you think the dark or reserve roasts are too strong but still want a highly-caffeinated drink, the Clover medium roast brewed coffee might be one to try.
Ask for a Caffè Verona or the breakfast blend, and you'll get 375 mg of caffeine in your Grande.
3. Blonde Roast Brewed Coffee – 360 Mg.
Depending on which Starbucks you go to, this is often the most caffeine you can get (as we mentioned above, Clover is only available in some places).
Starbucks says this blend is flavorful, mellow, and sweet. The Blonde roast brewed coffee has a higher content than all but Clover because it isn't roasted for as long. A Grande will give you 360 mg of caffeine.
Like Clover, Blonde roast brewed coffee is only available in some places – but it is more common.
4. Clover Brewed Coffee – Blonde Roast – 340 Mg.
Fancy trying both Clover and Blonde? You can! This mix means you'll get 340 mg of caffeine in your Starbucks drink – and it's so delicious!
5. Pike Place Brewed Coffee – 310 mg.
The Starbucks Pike Place Roast is a well-rounded and smooth blend of Latin American coffee beans, which are 100% Arabic beans.
This is available at all Starbucks locations, unlike Clover and Blonde roast brewed coffee.
In terms of flavor, it has a subtle taste of toasted nuts and rich chocolate, which are great alongside that great caffeine punch!
6. Nitro Cold Brew – 280 Mg of Caffeine
In sixth place is the first of our cold coffee drinks. This is no ordinary Starbucks cold brew coffee. The Nitro Cold Brew is unlike any other cold brew you've tasted.
The magic of this drink is all about how it's poured and served. Nitro Cold Brew is always served in a glass and is dispensed under a tap.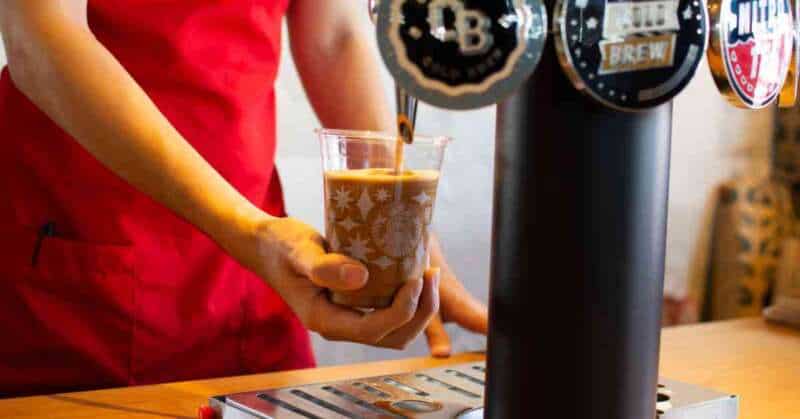 Unlike beer, where the glass is tilted to avoid bubbles, with Nitro Cold Brew, the bubbles of nitrogen oxide (Nitro) make it so delicious and smooth.
Firstly, the gas creates a cascade of bubbles that swirl and finish with a velvety crema.
The nitrogen also makes the drink cold, so ice is not needed. You get no dilution – just pure, unadulterated, caffeine-rich coffee.
Related: Have you ever wondered about the pricing of cold brew, check out or article where we investigate why cold brew coffee is so expensive?
Nitro Cold Brew Coffee with Cold Foam
Sometimes people want a sweet cream cold brew, more so than the standard Nitro cold brew.
If this is how you like your Starbucks cold brew coffee, you can have cold foam added to it.
This means a small amount of aerated milk foam is added to the top without heat. The caffeine content is the same as the standard Nitro cold brew, but you get an even creamier taste.
Many options are available for your Nitro cold brew – Cinnamon almond milk, Cinnamon oat milk, dark cocoa almond milk, vanilla sweet cream, or even things like Irish cream or salted caramel cream!
7. Brewed Coffee – Featured Dark Roast – 260 Mg.
For its caffeine content, you can't go wrong with a traditional, drip-brewed dark roast coffee. With 260 mg, the featured dark roast is many people's go-to Starbucks drink.
Though it doesn't have as much caffeine as the Pike Place roast or Blond roast, it's still significant.
Remember, if you're a member of Starbucks, you can get a free second cup if you sit in the cafe – that's a massive 520 mg of caffeine.
8. Iced Shaken Espresso – 255 Mg
If the Nitro cold brew doesn't take your fancy (or it's too caffeinated), why not try an iced shaken espresso? It's one of the cold coffee drinks that's heavily caffeinated, and there are many different options for customizing this drink.
One option is the iced brown sugar oat milk shaken espresso. This combines ice, brown sugar syrup, oat milk, cinnamon, and three shots of espresso Blond roast.
Each Blonde roast espresso shot has 85 mg of caffeine, making this drink 255 mg – and it tastes so good!
Another option is the iced chocolate almond milk shaken espresso, which contains the same amount of caffeine.
This time, the three shots of Blonde roast espresso are combined with ice, almond milk, and chocolate malt powder for a delicious, frothy drink.
9. Blonde Caffè Americano – 255 Mg
As most people know, an Americano is a combination of espresso and hot water that has a light cream layer.
When made with the Starbucks Blonde roast as a Grande, the cup will contain three espresso shots for a smooth and sweet cup.
10. Caffè Americano – 225 Mg.
The traditional Caffè Americano is just like the Blonde but with a slightly less potent caffeine content.
The standard Americano has 225 mg of caffeine. If you like a long drink, this is great.
You can ask your barista for an iced caffè Americano if you prefer. Like this drink, but want more caffeine? Ask for an extra shot!
11. Cold Brew 205 Mg.
Starbucks cold brew coffee drinks are becoming more and more popular. We've already mentioned the Nitro cold brew, but standard cold brew drinks are created and served differently.
They're made in small batches that are slow-steeped with cool water for around 20 hours.
Because heat is never a factor in the brewing process, the flavor produced is exceptionally smooth.
Unlike the Nitro cold brew, these standard cold brew drinks are served poured over ice.
You'll get 205 mg of caffeine in a cold brew coffee or 200 mg if you choose the Reserve blend.
Cold Brew with Added Cold Foam
If you like cold brew coffee but also want the creaminess of milk, it's possible to add cold foam to your Starbucks cold brew coffee.
Cold foam can be made with any milk; oat and almond milk are the most popular. If you like a touch of chocolate, you can ask for a dark chocolate cold brew foam.
It's also possible to get a cream cold brew made with sweet cream. If you've never tried this, ask for a vanilla sweet cream cold brew – you won't be disappointed!
12. Flat White – 195 Mg.
Flat white is one of the most popular drinks of Starbucks fans. Grande drinks are prepared with three ristretto espresso shots, which is one extra than other drinks in this size.
A flat white is a simple mixture of these smooth espressos with added steamed milk. If you want a slightly different ratio of espresso to milk, ask for a Tall.
13. Caffè Mocha (hot or Iced) – 175 Mg.
Ideal for chocolate and coffee lovers, the Starbucks caffè mocha is a delicious coffee-based drink with espresso, steamed milk, and mocha sauce. For extra luxury, ask for whipped cream too.
It's also easy to add flavored syrups to mocha drinks, so you could have peppermint hot chocolate with the added caffeine from the espressos!
14. Starbucks Blonde Latte – 170 Mg.
A Starbucks latte of any kind has two espresso shots at Grande size. This would usually give you 150 mg of caffeine. However, if you enjoy a latte but want a bit more of a boost, you can ask for the Blonde roast, and you'll get 170 mg of caffeine in your drink.
Whether you customize it as an iced caffè latte or a hot drink like a Starbucks blonde vanilla latte, you have many options.
Popular Iced Caffè Latte Drinks in Starbucks:
Iced cinnamon dolce latte
Iced oat milk honey latte
Iced eggnog latte
Iced chestnut praline latte
Iced caramel brulée latte
Iced pumpkin spice latte.
15. Espresso (Double Shot) – 150 Mg.
A standard Starbucks doubleshot will give you 150 mg of caffeine. A Blonde roast double espresso will provide 170 mg if you want a little more.
With espresso, you get a quick boost of caffeine that's low in calories and hits the spot. It takes no time to drink but gives you all the caffeine you need for that quick pick-me-up.
The smallest drink with the highest amount of caffeine per ounce is the Starbucks blonde espresso, with 85 mg.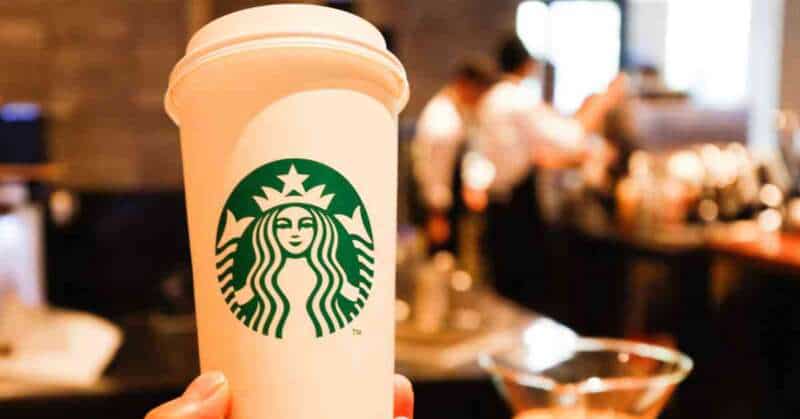 Other Things to Know About Starbucks Drinks and Their Caffeine Content
Choosing a Venti or Trenta over a Grande won't necessarily mean you have more caffeine in your drink. Most Grande and Venti drinks are made with two espresso shots. Conversely, Short and Tall drinks have a single shot.
To get more caffeine in your espresso drinks, you need to ask for an extra shot in your preferred drink, whether iced coffee, Starbucks dark roast coffee, or otherwise. 
Unfortunately, this can't be done with cold brew because cold brew is brewed in batches.
An excellent rough rule is that most Short and Tall Starbucks espresso drinks contain 75 mg, while Grande and Venti have 150 mg – this is with the standard blend of coffee.
You'll get three shots in a Grande American, Iced Shaken espresso, and flat white.
Starbucks cold brew coffee contains more caffeine than Starbucks iced coffee. This is because the different brewing technique extracts more caffeine.
Non-Caffeinated Drinks
For the caffeine content of other Starbucks drinks like iced chai tea latte, iced peach green tea, iced guava black tea, and all of the non-coffee drinks like frappuccinos, you can look at the Starbucks menu either online or in your local Starbucks.
However, most people are interested in something other than the caffeine content of these drinks, like they are with caffeinated beverages. In general, the caffeine content ranges between 40 mg and 100 mg.
Final Thoughts on Starbucks Caffeinated Drinks
The most caffeinated drink at Starbucks is the Clover brewed coffee, followed by the Blonde roast and Pike Place roast. All three have over 300 mg of caffeine per drink in Grande size.
Whether you prefer a hot beverage, cold brew, or iced coffee, we hope you have a good insight into how much caffeine your drink contains to get the caffeine hit you need.
TL;DR: Starbucks' most caffeinated drink is the dark roast or reserve roast Clover brewed coffee. This beverage packs a whopping 380mg of caffeine in a Grande.