Our Chemex vs Hario comparison will help you decide which pour-over system would suit your pocket and your lifestyle.
Nothing is better than starting your day with a great cup of coffee. Though having a fancy latte or espresso in coffee shops is what we all love, what is better than having the same quality coffee at home which is brewed by you only!
In fact, hand-poured coffee is becoming more and more popular these days. The reason is its fine and classic taste.
Due to this reason, pour-over brewers have become the essential kitchen equipment and the traditional bulky coffee maker can be seen losing its charm and value.
But first:
Let's get our heads around what exactly pour-over coffee is.
What is Pour-Over Coffee?
Pour-over coffee is a method of making coffee. It involves the user pouring hot water over a bed of ground coffee into a container or cup.
This method has become somewhat of an art form over the years.
You could argue that this is the same way drip coffee makers work. However, the difference comes in with the quality this method produces.
If manual methods of making coffee are not your thing, but you still want proper pour-over, then check out our buyer's guide to find the best automatic pour-over coffee maker for you.
Today, we will talk about the star coffee brewers which have created a lot of buzz in the market.
These are Chemex and the Hario V60. Both of these are of premium quality pour-over brewers. Let's compare them and see which one wins!
Here is a brief introduction to both of the products.
What is a Hario V60?
Hario means the 'King of Glass'. It's basically a Japanese company which was established in 1946.
Their first coffee maker was a coffee siphon and at present, their most popular product is Hario V60 which is made of glass, plastic, metal, and ceramic.
Interestingly, the name V60 is taken from the design of the brewer, as the 60-degree angle creates a V shape.
From the inside, the cone is lined with spiral ribs that bypass the air and increase the extraction of the coffee to the fullest.
Then, at the very bottom, there is a large opening that allows the liquid to flow in a more controlled way.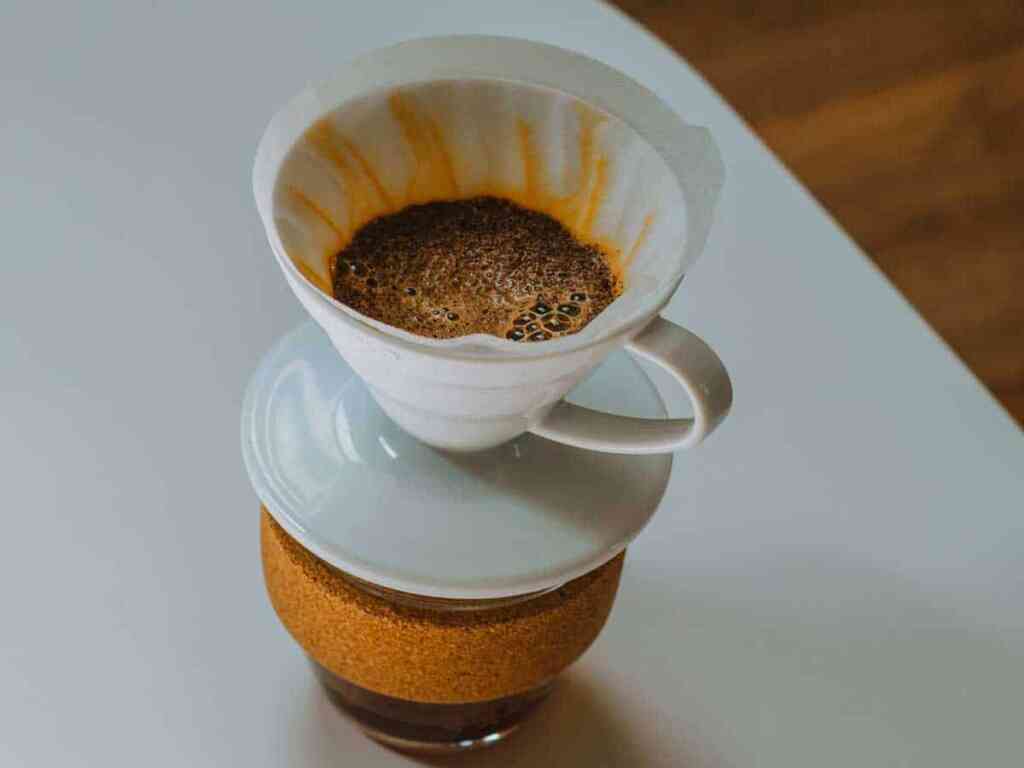 What is a Chemex?
First things first, Chemex looks stunning. It has a very stunning and unique design which makes it a clear winner from the looks perspective.
Know that this coffee brewer was designed in 1941 by a chemist whose goal was to make everyday objects beautiful as well as very functional to use.
You can say that Chemex is a perfect blend of style and functionality. It comes in an hourglass shape which has a wooden collar and is decorated by a unique leather tie.
The best part is, you can use it as a designer serving carafe after brewing the coffee.
Chemex vs V60: A Detailed Comparison
Now that you know what these products are, it is time to compare them and find out which one is the best. We will compare both the products on the basis of their design, ease of use, quality of the brew, and convenience.
1) Design
Although the quality of coffee is what matters the most, we all look for a stylish machine that is not only functional but also makes the whole process enjoyable.
Everyone wants their countertop to be decorated with classy and aesthetic equipment. Having said that, let's begin with the type of materials used in these products.
V60 mostly preferred in its ceramic version but also available in metal, glass, and plastic. Also, there are three size options you can choose from 01, 02, and 03.
On the other hand, Chemex comes only in glass. However, the wooden collar is completely optional.
You can purchase it with or without the collar. When you opt for the collarless product, you will get a glass handle in place of it.
It definitely looks more sophisticated and elegant with the collar.
Further, there are four size options: three, six, eight and 10 cup sizes.
Although the Hario V60 has a decent design, Chemex is the ultimate beauty! In fact, the main reason for the popularity of Chemex is its aesthetically-pleasing design.
Winner: Chemex
2) Convenience
When we talk about convenience, we mean a few factors like portability, ease of cleanup etc.
Both coffee brewers need their own special paper filters. The good news is, both kinds of paper filters are easily available in the market because of the popularity and demand of these products.
And even if they're not available in some local stores, one can easily stock them up from the online stores.
With V60, you can directly brew into the mug of another container. However, Chemex doubles as a serving carafe as we have already discussed.
There is nothing much difference in the cleanup and set up process.
Chemex has a slight edge over the V60 as it allows you to brew large batches of coffee in one go. So, if you want to have a little coffee party with your guests, then Chemex is perfect for you.
The only sad thing is, you will have a lot to clean. At this juncture, V60 comes into play, which is more compact and can be cleaned in seconds. At this point, Hario is a winner.
Talking about their portability and travel-friendliness, V60 is the way to go. It is perfect for travelling and you can easily take it to your office because of its smaller size.
On the other hand, Chemex has a glass body that can easily break making it less likely to travel with.
Since the Hario V60 is both portable and easy to clean, it wins this segment clearly.
Winner: Hario V60
3) Ease of Use
There is nothing new with the functioning of both of these pour-overs. You just have to follow the usual steps:
Dampen the paper filter.
Add some freshly ground coffee into it and pour hot water gradually.
The difference is, where Hario V60 requires a finer grind, Chemex calls for a coarser grind.
Another major difference is, Chemex calls for branded filters that are of higher quality. The thicker paper results in a clean and sediment-free cup of coffee.
In the case of V60, you will get the real flexibility to experiment with your coffee. You can freely experiment with the size of coffee grounds, the temperature of the water, and the pouring style.
One good idea is to use a gooseneck kettle and a good grinder. Clearly, V60 gives you the freedom to experiment with your brews.
Although it's a good idea to invest in a good coffee grinder, there are ways to get around this issue. Check out our guide on how to grind coffee beans without a grinder to see what can be done.
But on the downside, the Hario V60 can get a bit confusing for beginners. It requires a bit of practice before you get your hands on it.
On the other hand, Chemex is more forgiving than Hario V60. Anyone can easily use it, even beginners.
Winner: Chemex
4) Time
Time is an important factor that decides the efficiency of the pour-overs. It also gives us the idea, how many minutes we have to set it back before we need our hot cup of goodness.
In the case of Hario V60, brew time falls between 2 to 4 minutes. Since the opening is larger at the bottom, it allows the hot water to flow faster.
Coming to Chemex, the paper filter used is a bit thick. Hence, it takes about 3 to 6 minutes to prepare the coffee.
Winner: Hario V60
5) Quality of Brew
When it comes to the quality of the brew, Chemex coffee again wins it single-handedly. The reason is its branded filter paper which is quite thicker than the other filters.
Hence, it results in a more clean, aromatic, and great cup of coffee.
While brewing using the Chemex, you will find the grounds to have a tea-like body that brings aroma and sweetness to your brew.
Know that the ability of V60 is no less than that of Chemex. It gives you the freedom to experiment and brew a cup of coffee that is fresh, sweet, and just perfect.
Also, it works best with fruity coffees. The only problem is its trial and error process which takes a lot to achieve perfection.
And due to this reason, Hario V60 stays a step back from the Chemex.
Nonetheless, we are discussing the quality of the brew, and undoubtedly both result in better tasting coffees.
Winner: Tie
V60 vs Chemex: Our Final Verdict
Both products are equally loved by homeowners. It is really tough to decide on the winner. On one hand, Chemex has won the design and ease of use segment, on the other, Hario withstood the time test, emerging as an on-the-go pour coffee brewer.
To help you make the right choice, we have narrowed down the reasons to buy each product.
Reasons to Buy the Chemex
Brew large batches of coffee at the same time.
Have sophisticated and elegant coffee making equipment in your kitchen.
Brew that perfectly sweet, bright, and clear cup of coffee.
Have an easy and forgiving Pour-Over experience.
Avoid the use of plastic.
Reasons to Buy the Hario V60
Single-cup coffee brewer
Travel-friendly brewer to take anywhere: from office to outings.
Portable and compact device.
Easy to clean.
Freedom to experiment.
So:
The rest is up to you! We hope this has helped you get a deeper insight into all the aspects of the Hario V60 vs Chemex.